Catering - Bento Style
Get our delish Bento for your Corporate events ! Our classic curated Bento you will enjoy with your colleagues in any company functions.
ORDER HERE
Delectable Platters for Party of 10
Pick your favorite international cuisine here ! We have 4 delish cuisines that you will crave to try them all. You will enjoy them with friends/families/colleagues for any occasions at the comfort of your privacy space.
Order Here
Daily Bento Meals - Contactless Delivery
Our bento meals menu is specially curated for you  with daily fresh ingredients of greens, proteins (meats & others ) & whole grains to ensure you have a well-balanced diet with nutrients and vitamins. Eat healthfully and Enjoy it ! 
Order Here
Sustainable Development Goals
Besides serving delicious food, Bliss as a social enterprise strives to maintain a triple bottomline reporting by subscribing to the following UN sustainable development goals.
Passionate about Food
Besides people, food is the core of any event, be it corporate, celebratory, or a small, cosy gathering. Our dedicated catering team goes above and beyond in celebrating significant events with you, through food! We take food safety and traceability very seriously and only order from established legit supplier.
Winner of 2013 President's Challenge Social Enterprise Award
Bliss strives to empower people of underprivileged backgrounds in our restaurant and catering services. In 2013, Bliss restaurant and Bliss catering were recognised as businesses with a social mission, honoured with the President's Challenge Social Enterprise Award.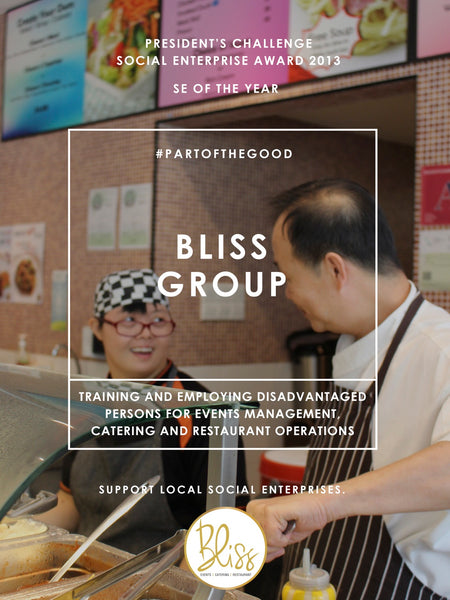 Our clients